We are excited to announce that we are celebrating our 75th anniversary this year! Established in 1947, we have grown and adapted throughout the years to provide superior services and products to our customers.
our history
Poor Richard's Press can trace its roots back to 1947. Cal Poly SLO Graphic Arts student, Emmons Blake, came across printing equipment the Telegram Tribune no longer needed and decided to take a chance at following his dream. With his printing knowledge he had gained from Cal Poly and his passion for business, he opened the doors to Blake Printery in 1947. Over time, Blake Printery grew to be the biggest print company on the Central Coast.
Emmons eventually introduced his son, Richard, into the business. Richard grew a quick interest in Blake printery and eventually bought it from his father. In 1972 Blake Printery split into two main companies, Blake Printing and Publishing and Poor Richard's Press. Each company focused on different types of print to enhance efficiency. Poor Richard's Press grew to have six locations throughout the Central Coast and expanded its services.
in 1986 Todd Ventura, a Agricultural Science student at Cal Poly joined Poor Richard's Press as a part time employee looking for some extra cash. He quickly found a passion for the print industry and went from a student with a part time job to a full-time and committed employee at Poor Richard's Press. Through many years of hard work he eventually became partners with Richard Blake and they together expanded the services that Poor Richard's Press offered.Eventually, Richard retired and Todd became the sole owner. 
Over the years, Poor Richard's Press expanded and grew as clients needs grew. Now Poor Richard's Press offers six dynamic communications services including: design, print, mail, apparel, web, and promo.
What's coming
In celebration of our past and recognition of where we hope to be in the future, we are organizing many events, promotions, and campaigns through this next year. We are excited to bring back elements from our original marketing and logo including Ricky and Spot Cat (the two characters from our original logo) and our iconic canvas paintings.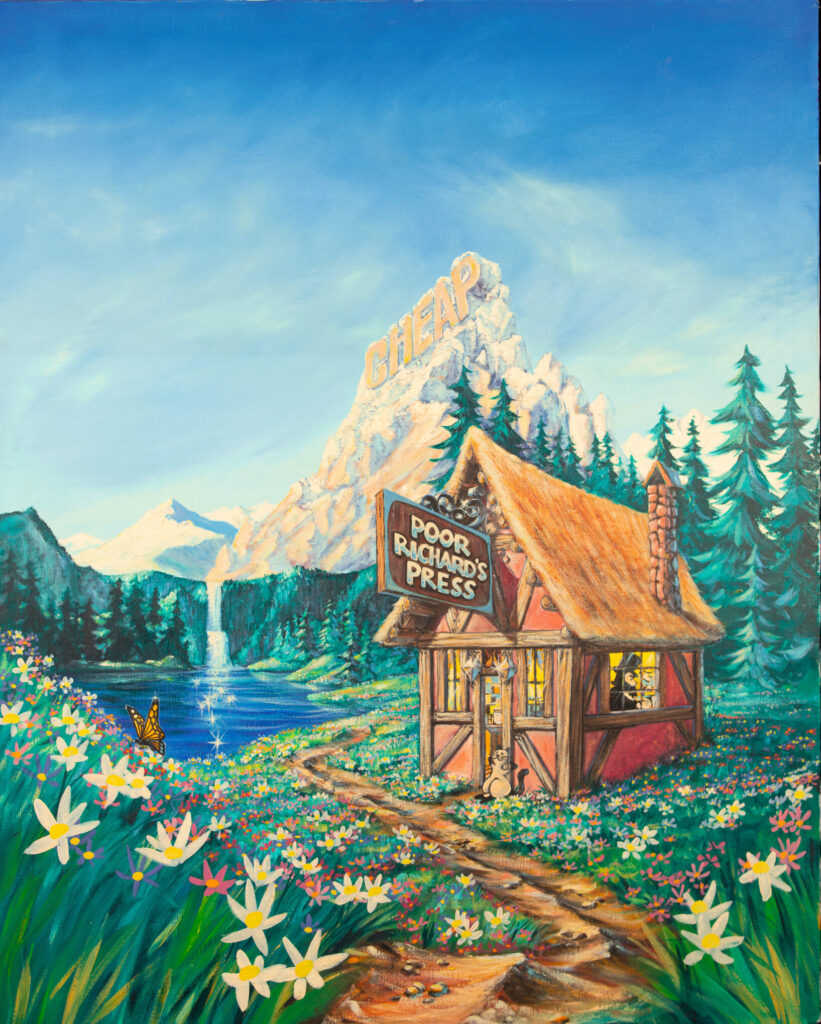 We have created an anniversary logo that will be seen on all of our anniversary-related items. In recognition of our history, we included both Ricky and Spot cat in this new logo. In celebration for what is to come, we have included our iconic and colorful "PRP" icon. through combining these elements, we were able to create a logo that embraces our past while also looking into the future of Poor Richard's Press.