You may have seen some of our social media posts featuring various hat patches, keychains, notebooks, and much more made of three different materials: genuine leather, faux leatherette, and hair-on-hide. But what ARE these materials? And what makes them different?
Before we get too deep into each product it let's go over why we have such a variety of materials that all can be used for the same things. At Poor Richard's Press, we strive to offer items that make your brand stand out. Each of these material options are very unique and aren't as widely offered, making them instantly an eye-catching piece.
Ok so let's get into it!
genuine leather
All of our genuine leather is, well…genuine! Our leather comes from real cattle and is treated or "tanned" to create unique color options. Also, dependant on how the leather is split, they can have different textures and thickness. We offer four separate leather types: Veg-tan, London-tan, Split, and Chestnut. We offer each of our  leathers in two different burn types that can give the same piece two completely different looks.
Genuine leather offers a certain feel of tradition, authenticity, and quality that our faux leather can't quite match. Because all of our leather comes from cattle, there is a certain uniqueness to every piece. Some pieces might have a slightly different color tone, show scratches or stretch marks, or even have slightly different thicknesses. It is these variances that make patches, notebooks, coasters, or whatever is made from them totally unique and one-of-a-kind!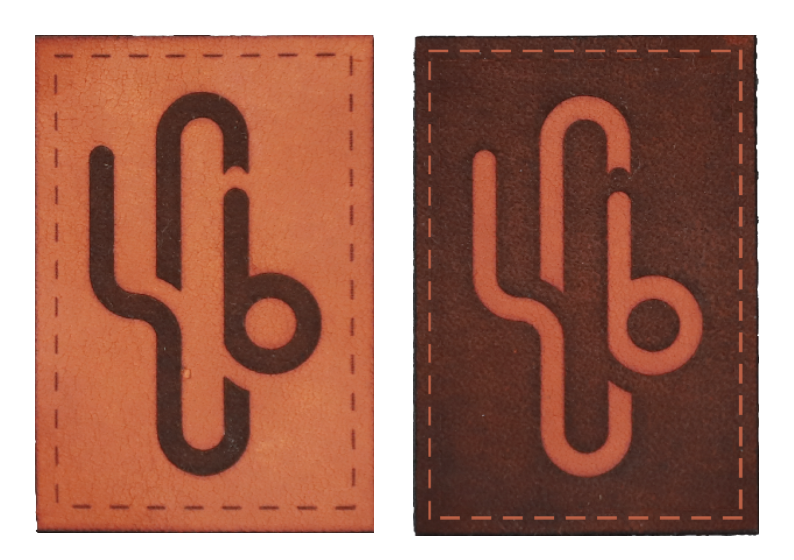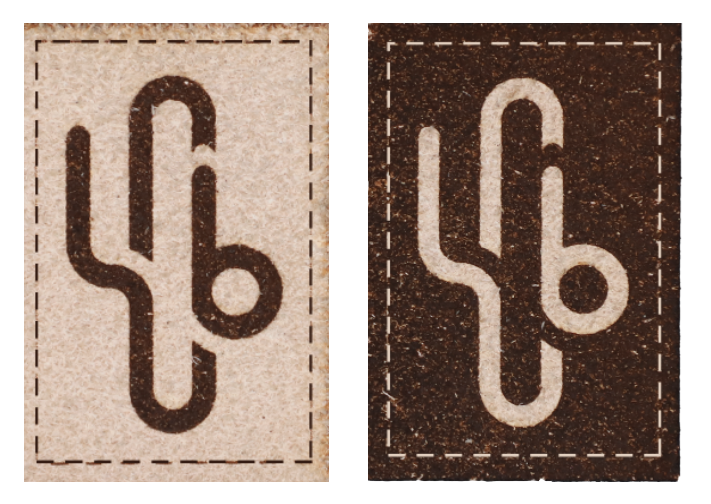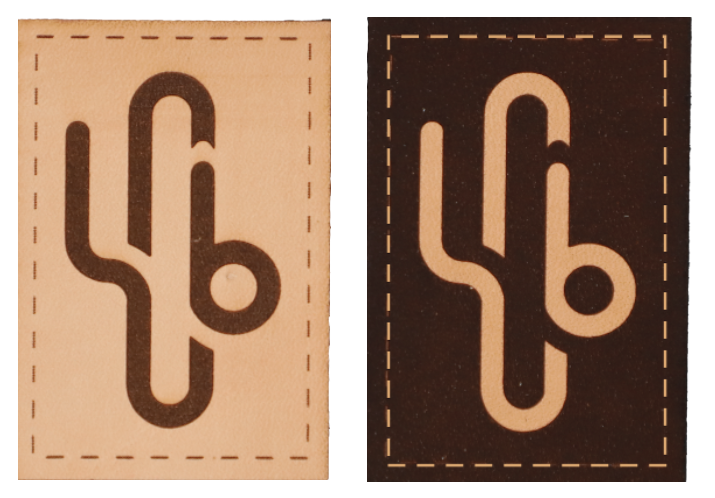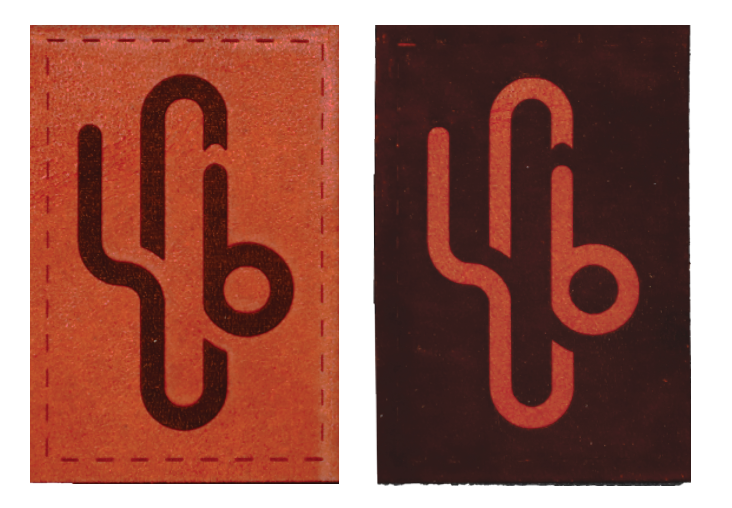 leatherette
Our faux leathers offer a similar look and feel as our genuine leather but with a much more extensive color palette. Faux leather is durable and water resistant so it is a great option to go on garments or products that might get a little more beat up. 
Leatherette not only has a variety of color options, but also can have unique characteristics once lasered such as shiny gold or silver under the top layer. Since these patches are manufactured they have a consistent look, color, feel, and thickness throughout every sheet used. These leatherettes are great for a bold look with a little shine or splash of color.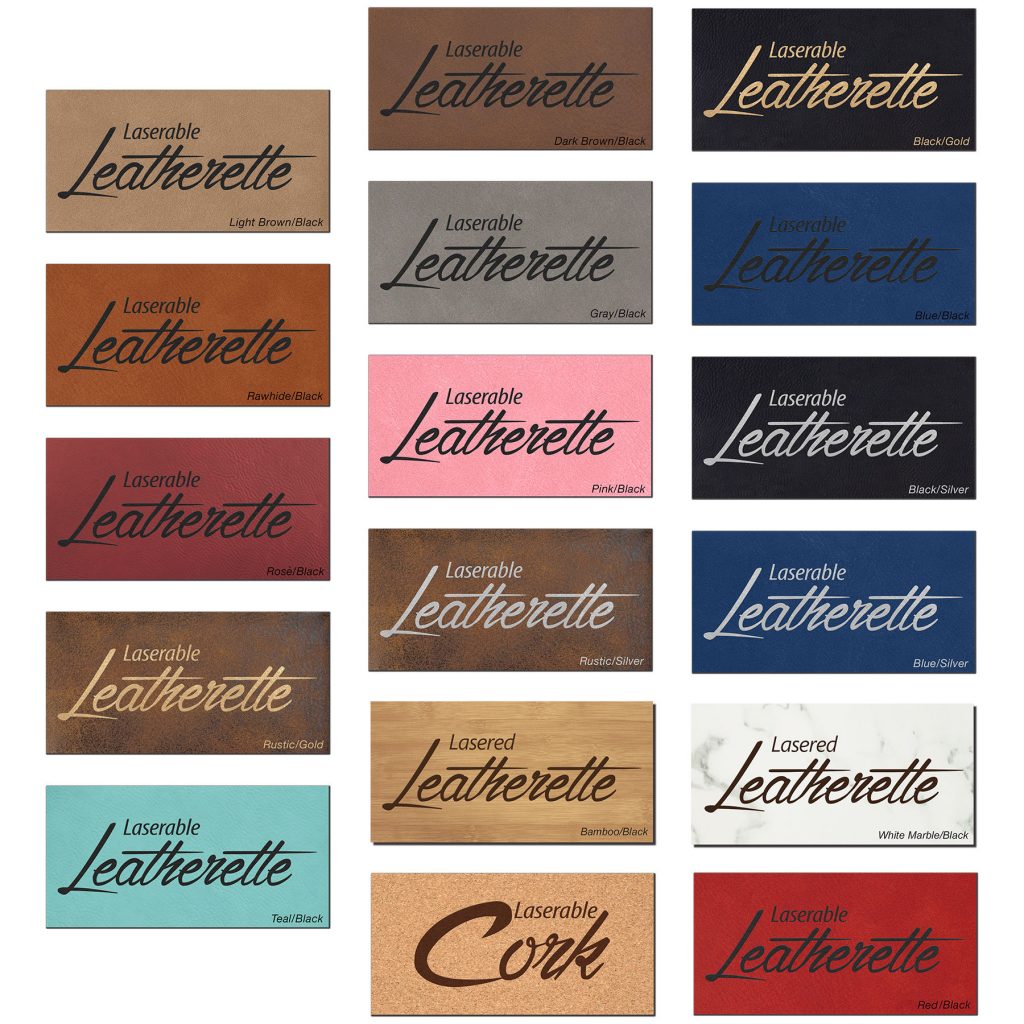 hair-on-hide
Hair-on-hide is our newest and most exclusive of material options. We get genuine cow hides that range in pattern, hair length, and color. We have mastered the ability to laser-engrave on them to create truly special products. This material is so unique it's not offered anywhere else locally!
The cow hide speaks for themselves when made into patches, coasters, accessories, and more. Hair-on-hide gives off jaw-dropping, authentic, natural, and an all-around western vibe that cannot be compared to. If you are truly looking to have an item that no one else has, this is the option for you.